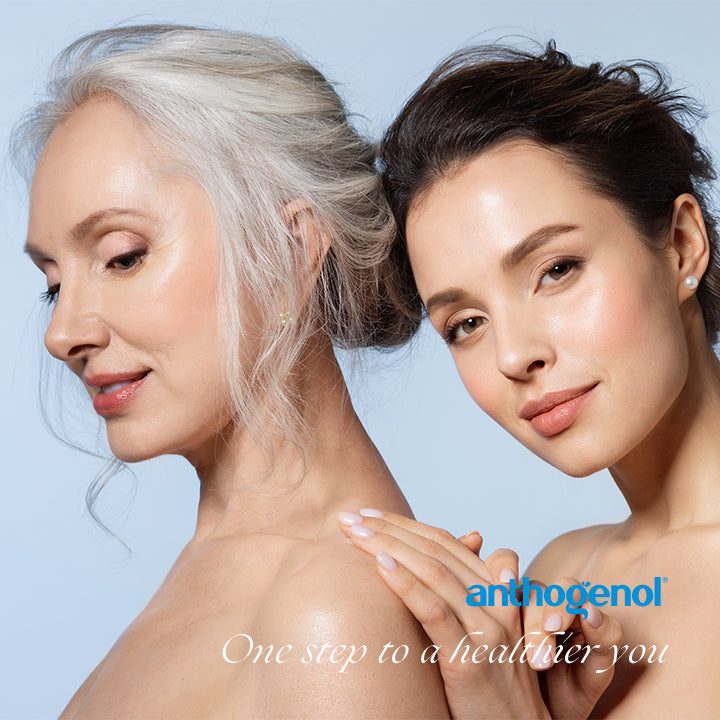 EXPERIENCE THE FUTURE OF WELL-BEING
Anthogenol - your personal
'TIME CAPSULE'

for a healthier tomorrow.

Formulated with 3 active ingredients, Anthogenol® helps you to look, feel and perform at your best.
We want to
empower all people

regardless of age, body shape or pronouns, in order to feel their

best selves

.
NOT ALL OPCS ARE THE SAME
Masquelier's® Original OPCs. Only the best for your body.
After first isolating OPCs in 1948, Professor Masquelier was finally granted a patent for his revolutionary extraction process in 1966. With a much higher concentration of grape seed extract, only MASQUELIER'S® Original OPCs are crammed full of the antioxidant goodness your body needs.
ALWAYS READ THE LABEL AND FOLLOW THE DIRECTIONS FOR USE.
Anthogenol® 30 Capsules
IT's DOWN TO A SCIENCE
This is how it helps your body.
Reduces free radicals formed in the body
The antioxidant compounds in Anthogenol® capsules can reduce free radicals formed in the body, and maintain your general health and wellbeing.
Supports hair and skin health
Each Anthogenol® capsule contains three active ingredients: Grape seed extract (MASQUELIER'S® Original OPCs) , Silica and Vitamin C which work in unison to support your hair and skin health.
Supports collagen formation
As time passes, collagen levels diminish which leads to signs of aging. Anthogenol® maintains and supports the formation of collagen in your body, which will keep your skin supple and firm for longer.
Dive in with confidence
One step to a healthier you.
Since 1948, Anthogenol® continues to set the bar for antioxidant supplements that offer real, tangible results globally for real you.
Introduced to Aussies in 2004, Anthogenol® is now the No.1 OPCs antioxidant supplement sold in Australia*.
ALWAYS READ THE LABEL AND FOLLOW THE DIRECTIONS FOR USE.
*IQVIA, OPCs (Grapeseed extract) Antioxidants supplements, Australia Pharmacy Value Sales, data for the 52 week period ending 25/06/2022.
Anthogenol® 100 Capsules
we make great experiences
Our lovely customers said this.
let's look after our planet
Protect what is precious.
Protect our oceans.
We rely on the ocean for life, now it relies on us. Our actions over the next ten years will determine its state for the next ten thousand. Anthogenol® is proud to sponsor the Sapphire Project and pledge commitment to ocean conservation in Australia.
Find our products at these retailers.